03/04/2008
While fooling around on the net today I bumped into QR codes. I had seen them on some contact cards and some websites before, but I didn't really pay any attention back then.
Creating a code is easy, there are a bunch of ways to do it. Nokia has a generator offering two modes, Datamatrix (default) and QR (look at the bottom of the page): http://mobilecodes.nokia.com/create.jsp.
Reading the code is quite easy too. You just need a code reader for your mobile phone. Nokia's reader couldn't work on my Nokia N70 but Kaywa Reader worked just fine. Go the their site, login with bugmenot and download the reader for your own mobile phone.
Then just play with it.
Here's how it looks like: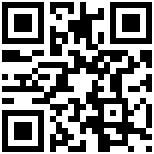 Weird(?) thing is that I couldn't find any applications for linux (open source if possible) to able to "ocr" the images and provide output of the code inside them. Do you know any ?

Filed by kargig at 01:03 under General,Internet,Linux
No Comments | 3,595 views